---
Welcome to Hope!
Hope Therapeutic Services is a Trauma Focused Therapeutic Center dedicated to instilling hope in the lives of adolescents, children, couples, and families through the use of evidence-based interventions. It was founded by Felicia Fdyfil, a Social Worker committed to helping families. Our mission is to create HOPE in the lives of the families and communities we serve in order to inspire, empower, and encourage each individual to reach for their dreams and ultimate potential. Our agency specializes in trauma informed treatment and working with adults, adolescents and their families through individual and family therapy models. Our team of dedicated service providers are passionate about helping individuals and families find hope in working toward achieving their goals through the collaborative effort of utilizing therapeutic interventions. Hope Therapeutic Services provides outpatient psychotherapy services, intensive in community services and empowerment groups for adults, and youth.
---
A Message from Felicia: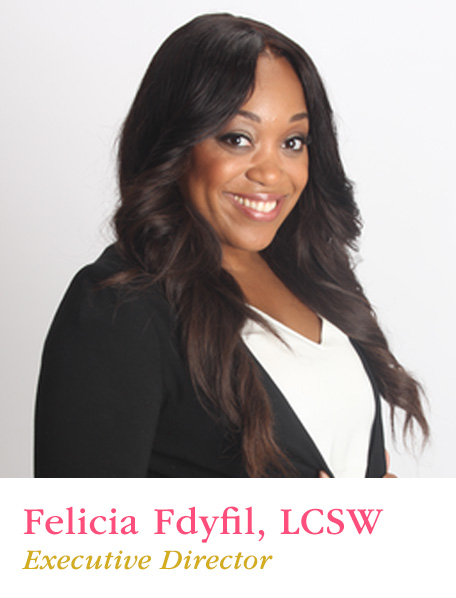 Hope Therapeutic Services is a privately owned Therapeutic Center. Felicia Fdyfil, LCSW is the Executive Director of Hope Therapeutic Services and a Licensed Clinical Social Worker (LCSW), who specializes in trauma-based treatment and working with adolescents and their families through individual and family therapy models. Felicia received her Master of Social Work (MSW) degree from Columbia University School of Social Work. After completing her MSW degree, Felicia has been working with mental health agencies that partner with DCP&P and in positions providing crisis intervention therapy, trauma focused therapy, individual and family therapy, and supervision. Felicia is passionate about helping individuals and families find hope in working toward achieving their goals through the collaborative effort of utilizing therapeutic interventions.
---
Meet Our Team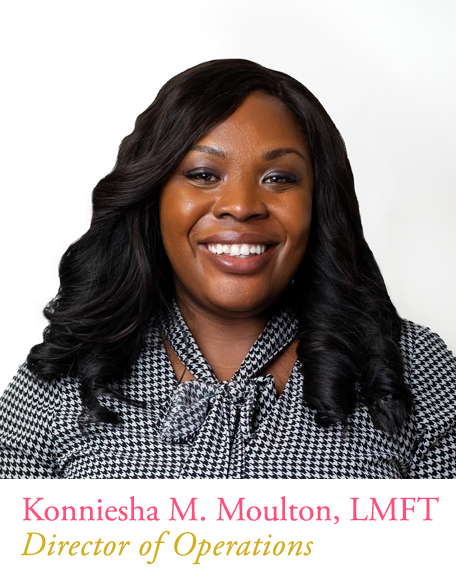 Konniesha M. Moulton is a Licensed Marriage and Family Therapist. She has more than 10 years of experience working within the child welfare system and the children system of care. Her roles included in-home therapeutic treatment, out of home placement facilities, juvenile justice and community resource agencies. Konniesha has created new program initiatives to support ongoing support for families and children within the community. During her career she trained in various trauma informed and promising practices models, including Attachment Self-Regulation and Competence (ARC), ARC GROW, Parent Child Interaction Therapy (PCIT) , Sensory Motor Arousal Regulation Treatment (SMART) and the Integrative Treatment of Complex Trauma for Adolescents (ITCT-A). She has collaborated with various agencies to provide training in trauma such as: The NJ Division of Child Protection and Permanency, created and provided the National Child Traumatic Stress Network "Child Welfare Trauma Toolkit" to staff in the local offices. She is passionate about working with children and families as well as teaching educational and best practices to clinicians and paraprofessionals working with individuals impacted by trauma.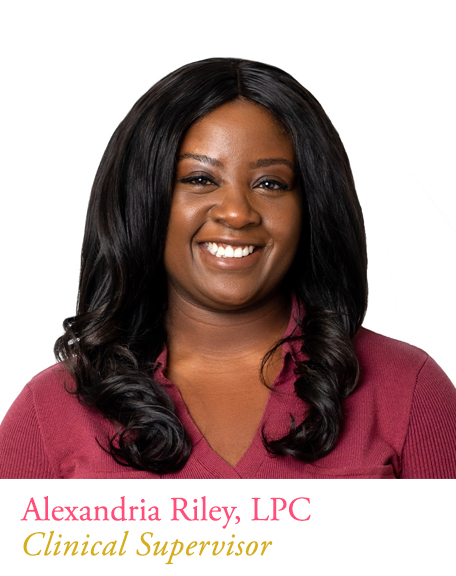 Alexandria Riley is a Licensed Professional Counselor who works with children, families, and individuals. Over the last 10 years Alex's work has focused on providing clinical assessments and intensive in-home individual and family therapy for children and families involved in the child welfare system. Her skills focus on treating clients with a variety of symptoms related to foster care placement and adjustment, complex trauma, neglect, family crisis and stabilization, anger management, grief, depression, parenting skills, anxiety, and relational issues. Alex's skills include clinical training using the Attachment, Self- Regulation and Competency framework (ARC model), Motivational Interviewing, as well as utilizing play and cognitive behavioral therapy techniques. Alex has extended her professional knowledge as the Clinical Supervisor at Hope Therapeutic Services, offering therapeutic support and clinical skills training for IIC service providers and therapists. Alex's goal is to create a warm, empathic and supportive environment where clients' strengths are used to foster hope and motivation toward achieving their goals.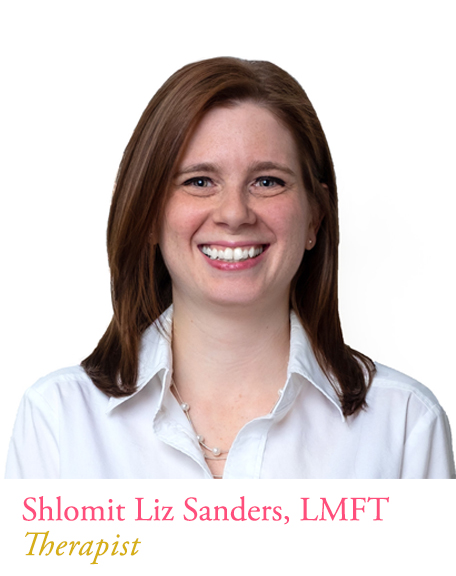 Liz Sanders is a Licensed Marriage and Family Therapist as well as a Certified Clinical Trauma Professional (CCTP) whose specialization covers such symptoms as anxiety, depression, trauma, addiction, divorce, self-esteem, family conflict, pre-marital education/counseling and substance abuse. Her treatment is tailored toward individual needs and may incorporate a variety of styles from a Narrative approach to Cognitive Behavioral Therapy. As a psychotherapist, she uses a collaborative approach helping clients reach their maximum potential by tapping into their strengths and providing the tools they need to successfully overcome their challenges. Liz is a devoted psychotherapist experienced in working with individuals, couples, families and adolescents. Liz is also Hebrew speaking. She believes we all at some point in our lives find ourselves stuck needing some support and guidance to reach the next level.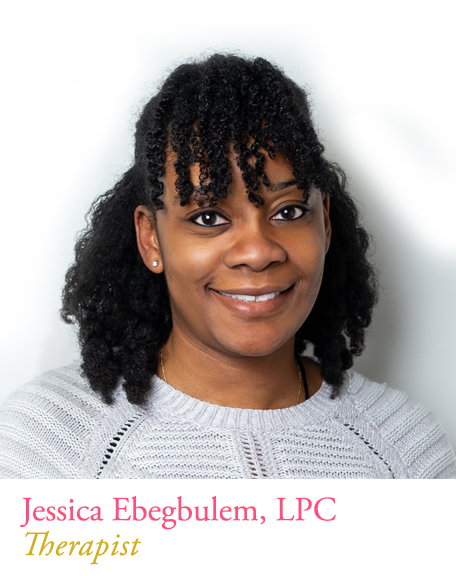 Jessica Ebegbulem is a Licensed Professional Counselor (LPC). Jessica believes that therapy is a beneficial tool that can help an individual achieve emotional healing. Jessica's goal is to provide a safe and comforting environment that will help promote dialogue and enable a person to feel comfortable unveiling who he/she is. She aim's to empower individuals through a person-centered, strength-based approach, helping them to realize how much they are in control of not only the session, but also the issues that they face in their lives. Her therapeutic style is a mixture of both cognitive behavioral and psychodynamic approaches. Jessica integrates the two to help a person explore the ways in which past experiences have affected their present and in turn help to develop healthier ways of thinking and coping. I work with young adults and adults who struggle with a range of issues such as: depression, anxiety, trauma, mood disorders and chronic physical ailments. Jessica believes the idea of going to therapy can sometimes be one that produces much anxiety and she believes it's imperative to understand the courage that it takes to make this step. Jessica provides psychotherapy to individuals, families and adolescents.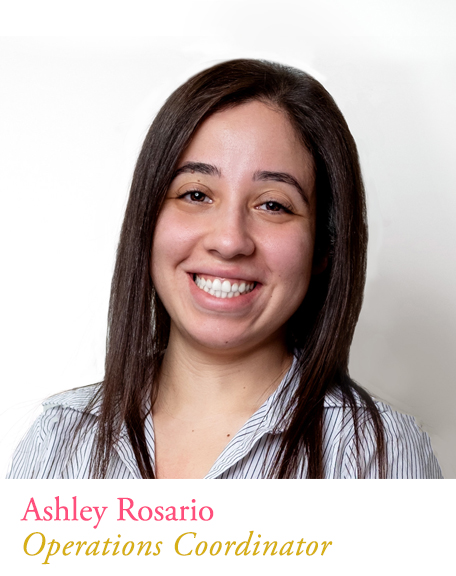 Ashley Rosario is a bilingual Operations Coordinator at Hope Therapeutic Services and Certified Behavioral Assistant. Ashley maintains administrative tasks such as implementing systems in order to help the office run smoothly for both in-home services and out-patient services. She graduated from Montclair State University with a Bachelors degree in Family and Child Studies in 2015 with a minor in Psychology and Speech and hearing sciences. During her time at Montclair State University she worked as a permanent substitute teacher in a Special Education classroom for children with autism where she was trained in handle with care, behavior modification, and discrete trials. Ashley also interned with a Speech Pathologist where she was trained in the hearing and language sciences to work with children with developmental delays. Ashley has worked with children for over 10 years and brings a passion to the field based on her desire to see them progress and implement new strategies.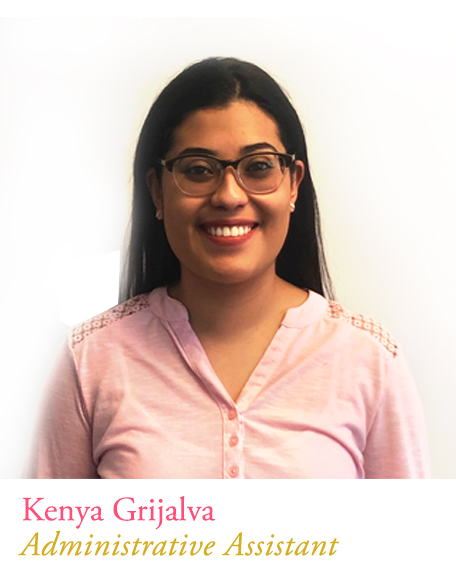 Kenya Grijalva is a bilingual Administrative Assistant at Hope Therapeutic Services. She graduated from Kean University with a Bachelors degree in Psychology in 2017. During her time at Kean University she worked as a transfer instructional mentor where she assisted first-year transfer students in their social and academic transition to Kean University. She is currently a student at Montclair State University pursuing a Masters degree in Clinical Psychology with a concentration in Forensic.